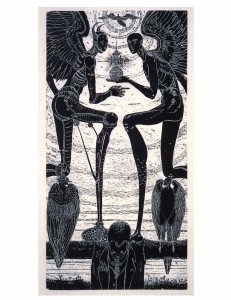 Woodblock print on Okorawa paper
Approximately 2.5′ x 4.5′
Diego Marcial Rio is a San Francisco Bay Area artists who paints in acrylics and works with woodblock. In this particular artwork, he illustrates many social-economic problems faced by contemporary society. The figures and landscapes depicts industrial and moral deterioration that are a reflection of society's urban decay. Overall, this artwork explores a product of society's actions.