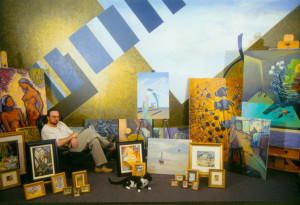 Frost Newton was born in San Diego California in 1960. His father was a theatrical set designer and his mother was an aspiring actress. He grew up in a creative household where art and music were celebrated and personal creativity encouraged. Frost showed an aptitude for drawing and art became a driving force early on in his life.
In his teens, he worked in print shops and technical publication departments doing illustrations and assembling artwork for manuals.  Although he had been painting since an early age, it wasn't until he married and had the support and encouragement from his wife, Iris, that he was able to devote himself to his art full time.
His early love of surrealism and the fantastic is at the core of his "vision", but being a bit of a rebel, Newton defies categories and dips his brush in several styles, including explorations into abstract, impressionism and cubism. He is a highly skilled painter who uses many tools and techniques. Frost Newton's love for the craft of painting is evident in his almost fanatically detailed works.
Frost Newton currently lives in the San Francisco Bay area. His current project "NEWTON'S GRIMM'S" involves a series of small paintings (5"x5" image) that explore the relevance of Grimm's Fairytales in our hurried and perilous lives. There will be one painting for each of the over two hundred stories.